The homepage of your website is often the first interaction a potential customer has with your business. To ensure a scrolling visitor becomes a happy shopper, you need a homepage that reflects your brand, is easy to navigate and encourages engagement. When it comes to your business website design, professionalism matters. If you're wondering how to get started, take a look at these five homepage essentials for your business website.
Your Logo (and Name)
Make sure visitors remember who you are by displaying your logo on your homepage. If your logo doesn't include your business name, make sure to place it somewhere above the fold of the page. You should also be mindful of creating a consistent brand.
TIP: If needed, you can create multiple variations of your logo and use them in different locations.
Links to Social Media
Social media has changed the game for businesses, and you want to make sure your customers are connected. Your homepage should include links to all of your social media accounts. You can do this easily through small icons that look great, but don't take up a lot of room. It's important to understand how to brand yourself on social media.
TIP: Keep your social media up to date by posting consistently. This shows customers you're easy and available to engage with.
Search Bar
In today's fast-paced, technological world, customers don't have time to click through multiple web pages to get to what they want. By having a prominent search bar on your homepage, you help interested customers find exactly what they're looking for.
TIP: Make sure your search bar is even more prominent on a mobile display. Navigating sites is harder on smaller screens.
Photos of People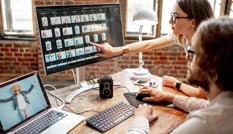 No matter your business, people need to believe a purchase will benefit them in some way. Show your customers why your product or service is useful by including photographs of people on your homepage. It helps your business (and whatever it is you're offering) feel more relatable.
TIP: Nothing can beat real photos of your products, showrooms, or team members in action. Invest in professional photography for your website, rather than just stock photos.
Call-to-Action
Include a call-to-action on your homepage to create a sense of urgency and commit customers before they click away. A well-designed button is a great way to present a call-to-action and is meant to be clickable.
TIP: Make sure your call-to-action looks different from the rest of your homepage.
Pop-ups
Love them or hate them, a pop-up can be an effective way to build your customer base and incentivize purchases. The best pop-ups offer useful content or promotions, so include coupon codes in your pop-up directly or ensure something great is automated to send when someone signs up for your emails.
TIP: Losing a customer is as easy as a click, so don't hide the button to close a pop-up where they can't see it.
Is your website built for customer engagement? At Drum Creative, our team is dedicated to helping you design a website that stands out from the competition and reflects the heart of your business. Contact us today and learn how we can help you through every step of the web design process.