Conventional wisdom suggests the best way to grow a business is "more." More services, more products, more markets. It's the belief that, by expanding services or product offerings, a business can build its brand. They invoke this master brand, super brand, one-stop-shop concept to increase sales.
But they're wrong.
Sure, they may see added sales in the short term, but in the long term, expanding their brand will only diminish their power and weaken their image. If you want to build a powerful brand in the minds of your customers, you need to contract your brand, not expand it.
Think General Motors. What comes to mind? Everything and Nothing. Since 1931 GM managed to expand their brand all the way into Chapter 11 bankruptcy (in 2009). It built megabrands within megabrands with Chevrolet, Pontiac, Buick, Oldsmobile, Cadillac, Saturn, Hummer, and more. If it had four rubber tires and a steering wheel, you could find it at the local Chevy dealer. They made large, midsize, small, cheap, expensive, luxury, economy cars.
Today, Chevrolet, Buick, and Cadillac are all that's left. The "GM Mark of Excellence" badge that once adorned every car they sold, is also gone for good.
Sadly, Porsche is speeding down that same dead-end by building big, four-door, SUV race cars in the pursuit of fast money. The same thing happened to Budweiser whose sales have steadily gone flat for the last 20 years.
Contract, Don't Expand
Nobody buys a product or service because it can do everything, but rather because it can do something. Consumers want brands that are narrow in scope. Ask any Corvette owner what kind of car they own. They'll say "Vette" not Chevro-lett. Why? The Chevrolet brand is weak. Corvette is a focused brand, more powerful than Chevy. When you try to sell everything, you limit your ability to build a strong brand.
There was a time when every town in America had a coffee shop. They served breakfast, lunch, dinner, pancakes, muffins, hamburgers, hot dogs sandwiches, pies, ice cream, and coffee. Howard Shultz had a more narrow idea. He opened a coffee shop that specialized in one thing . . . coffee. Today, Starbucks is worth billions.
What Howard Shultz did with coffee, Fred DeLuca did with American delicatessens. These shops served up everything: soups, salads, ham, roast beef, hot sandwiches, cold sandwiches, pickles, potato chips, cakes, yogurts, ice cream, beer, sodas, and cigarettes. In 1965, 17-year-old DeLuca narrowed the focus to one type of sandwich, the submarine sandwich. Today, Subway is the largest single-brand restaurant chain in the world, surpassing McDonald's.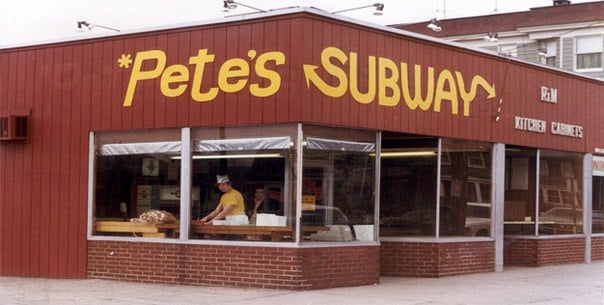 Whether Shultz and Deluca consciously decided to go "narrow" is doubtful. After all, DeLuca's sole purpose for opening a store was to finance a college career aimed at medicine, not sandwiches. I don't think he was brand-savvy at the time. But that story points to the fact that consumers favor brands that are specific and distinguishable. Preferably by a single word. It's interesting that DeLuca was only profitable after he changed the name from Pete's Submarines to the catchier name, Subway.
Narrow Your Way to Success
Almost all of the strong brands today like Apple, Ford, Coca-Cola, and Amazon started narrowly and expanded only after winning the initial branding battle. Remember Alta Vista? It was the very first search engine and became one of the top destinations on the web. But that wasn't good enough.
It added free email, topic boards, directories, comparison shopping, and lots of advertising on its home page. It spent more than a billion dollars buying Shopping.com, a comparison-shopping website, and then added Raging Bull, a financial website. Alta Vista was forced to refocus its purpose to search, but it was too late. Alta Vista was finally shut down on July 8, 2013, for good.
Google, on the other hand, stuck with one thing . . . search.
You can't expand your way to success. You can only narrow your way to success. And only then can you try expanding your line. Just don't do what General Motors and Alta Vista did.
Dominate Your Category
Success stories of companies who narrowed their focus are endless. I don't know of any business that failed from narrowing its focus. The truth is, good things happen when you keep your focus narrow. Ask Kleenex, a household brand that's been around for over one hundred years! They do one thing . . . facial tissue.
Focus allows you to dominate your category and become really good at what you do. Better than your watered-down competitors.
Why is it that FedEx can absolutely positively deliver a package overnight but Delta, American, and United Airlines have trouble keeping your bags on a plane? Focus.
You can be successful without being large and expanded. No one cheers for Goliath; they always cheer for David. A narrow focus makes your Unique Value Proposition (UVP) stronger and easier to articulate to the minds of your customers. It is by far the best way to differentiate yourself.
Narrowing your focus allows you to build a well-tuned operating model dedicated to delivering unmatched value. Domino's Pizza catapulted their business into an entirely new category when they announced: "Fresh, hot pizza delivered to your door in 30 minutes or it's free." Any of their competitors could have done this themselves but were afraid to.
Sorry, We Don't Do That
Instead of being afraid of focus, brands should be afraid of mediocrity. It feels counter-intuitive but contracting your line will put your brand on the map in a hurry. The road to profitability is paved with strong value propositions in which a company makes a specific promise to a specific customer.
Take a close look at what your business offerings are today. Do you offer goods or services that are outside of your passion? If so, consider dumping them and rediscover your calling. Focus on what you really love doing and leave the rest for whoever. You must be brave, make that decision, walk through that door, and close it behind you. Learn to say, "Sorry, we don't do that."
Then tell the world about it. And I just happen to know of a very focused web design firm in Greenville, SC that can help you with that.
SaveSave
SaveSave