A video is an extremely powerful medium for communicating an idea, concept, or promoting an event. When The Blood Connection wanted to do a video commercial for their annual Rock 'N' Roll Up Your Sleeve Blood Drive, we were tasked with developing one that would communicate their message in a fun and creative way.
A Song By Any Other Name
The theme for this blood drive centered around music, specifically, rock 'n roll music. As we began to consider concepts, we had the idea to do a throwback video based on the early Time-Life Music commercials. We thought it would be fun to take popular rock songs and rename them in relation to blood donation themes. We started by writing a script for the commercial, which included researching some of the most popular rock 'n roll hits. After sorting through hundreds of songs and putting our creative minds together, we came up with our own list of "donation hits".
Getting In Tune with Our Creative Side
Once the script was written, we began to build a storyboard, to help us visualize what our video would look like. These 'rough drafts' allowed us to build a list of what was needed as far as graphics, visuals, actors, and the specific video shots/angles necessary for bringing the video together.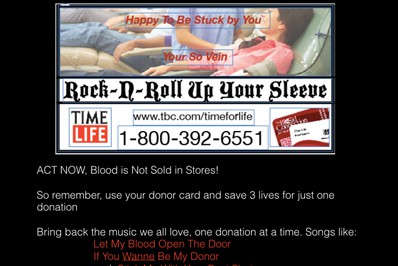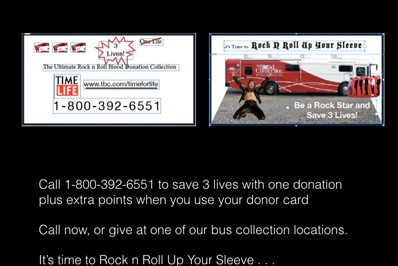 While the designers were busy with the graphics, our video team was working on finding the right location, putting together the right actors, and getting the right narrator for the video.
Working with Rock Stars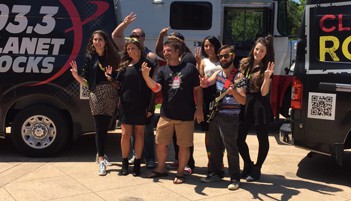 With the help of The Blood Connection, we were able to assemble a group of willing Blood Connection employees who did a great job getting in costume and in character for their roles. We decided to shoot the video at the Greenville donation center and requested one of the donation buses be parked in front of the building. On the day of the shoot, we arrived early to set up our equipment and walk through our shot choices. We then met with the actors and walked them through the script. We then began shooting the various elements of the video that we needed, coaching our actors along the way.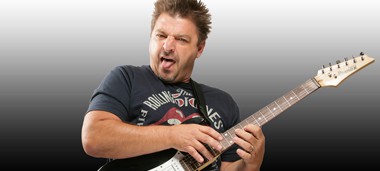 Once the video elements were completed, we went to work getting the video clips edited to fit within our storyboard. For our narration, we decided to ask a DJ from one of the sponsoring radio stations, Rock 101.1 to lend his vocal talents to our project. "The Stoneman" not only agreed to the narration but had a starring role in the video as well.
A Logo Worth Its Metal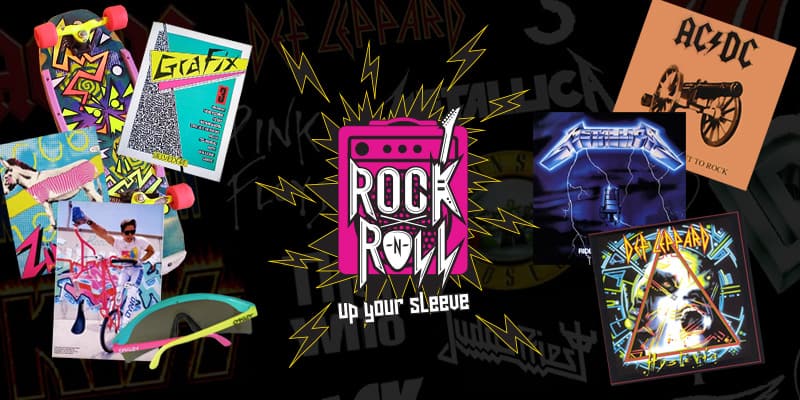 With the storyboard well thought out and finalized, our graphic designers went to work putting together the logo that would be used for the drive promotion, t-shirts, and video. They also put together various graphic design elements that would be used to give the video that "Time-Life Music" look and feel.
For the blood drive logo, we wanted it to have an 80's-style appearance. A lot of our designers are big 80's fans so it was a fun concept to play with. The design team drew their inspiration from the bold, neon colors and geometric shapes that dominated the "look" of the '80s. We made the logo come alive by using lightning bolts to create a sense of power, energy, and motion. In choosing the font, we wanted something that would fit in nicely with groups like AC/DC, Def Leppard, KISS, and Metallica. We used lots of sharp edges that were cut out to scream "metal!". We added smashing guitars, drum sticks, guitar picks, and amps to complete the iconic look.
The final step was to put the video clips, graphic elements, and narration together. After the post-editing process was finished we had our video commercial ready to begin promoting the blood drive. We were really excited about the final result.
For Those About to Rock
If you are interested in putting together a promotional commercial or other video-related projects, contact us to see what our band of designers and writers can 'drum up' for you.